Hi everyone,
It's been another orange-tinted day. I slept late this morning (0900), after yesterday's early start and late finish, and then took the dog for his morning walk. I was getting together some sort of plan for the day when my pager went off for a possible flooding in Shepparton. Our duty officer activated us and an auxiliary unit and so I got my overalls and boots on and hared out the door. The job turned out to be a flap over not much, and we were stood down shortly after. I kept going to the shed anyway as I had some odds and ends to do there and when I arrived ran into Anthony. The rest of the day was spent doing some maintenance in the shed, as well as a trip to the bushland near the Causeway to warn the homeless people there about the flood warning now issued for the Goulburn River. I was finally home a bit after 1900.
I think I mentioned once before that the homeless people we talk to are often the best prepared for flooding - or at least the ones with the strongest plans to evacuate. I often contrast them in my head with a gentleman I worked with at the last job who, I'm pretty sure, would have almost completely ignored a natural disaster with a kind of ovine inability to imagine his own death. He said (pretty often) that I was a 'prepper'. This mildly annoyed me (only mildly - I can't say I valued his opinion much), because 'preparing' seems to me to be simple common sense. Good enough for the Red Cross, for example, good enough for me.
I must say, though, that one of the things I don't understand about preppers generally is the resistance to co-operation with "the authorities". One blogger, who writes as
The Survival Mom, has said
A rural retreat won't save you. The federal government has you in their cross-hairs, as does the United Nations.
Gold and silver may be useless if a world currency is established. Using them may even be criminalized.
Ultimately, a too-powerful government will be the biggest threat to your survival.
and
that
6. Leave it to the United Nations to harass rural Americans
Has your local news media been covering Agenda 21? No? Thought not. Americans don't even realize that the policies of this oppressive document are already being voluntarily implemented in many towns, cities, and states. The goals of Agenda 21 are shocking and when you read through them, it's obvious they are becoming a threat to rural America in the form of various regulations put in place by people who mean well but don't understand how easily they are signing away basic freedoms.
I can only be bemused by the idea of the UN being able to harass anyone particularly effectively. As organizations go, it seems slightly less effectual than Greater Shepparton City Council, with none of the financial probity (in the late 1990s, for instance, the Human Rights Commission found that the Chief Minister of the Northern Territory wasn't interested in even returning their calls). It doesn't seem to do a great deal of damage to anyone (aside from taking up some reasonably valuable real estate in Manhattan).
What did preparation for cataclysm look like during the Cold War, when belligerents with genuinely terrifying weapons glowered at each other? It looked like this: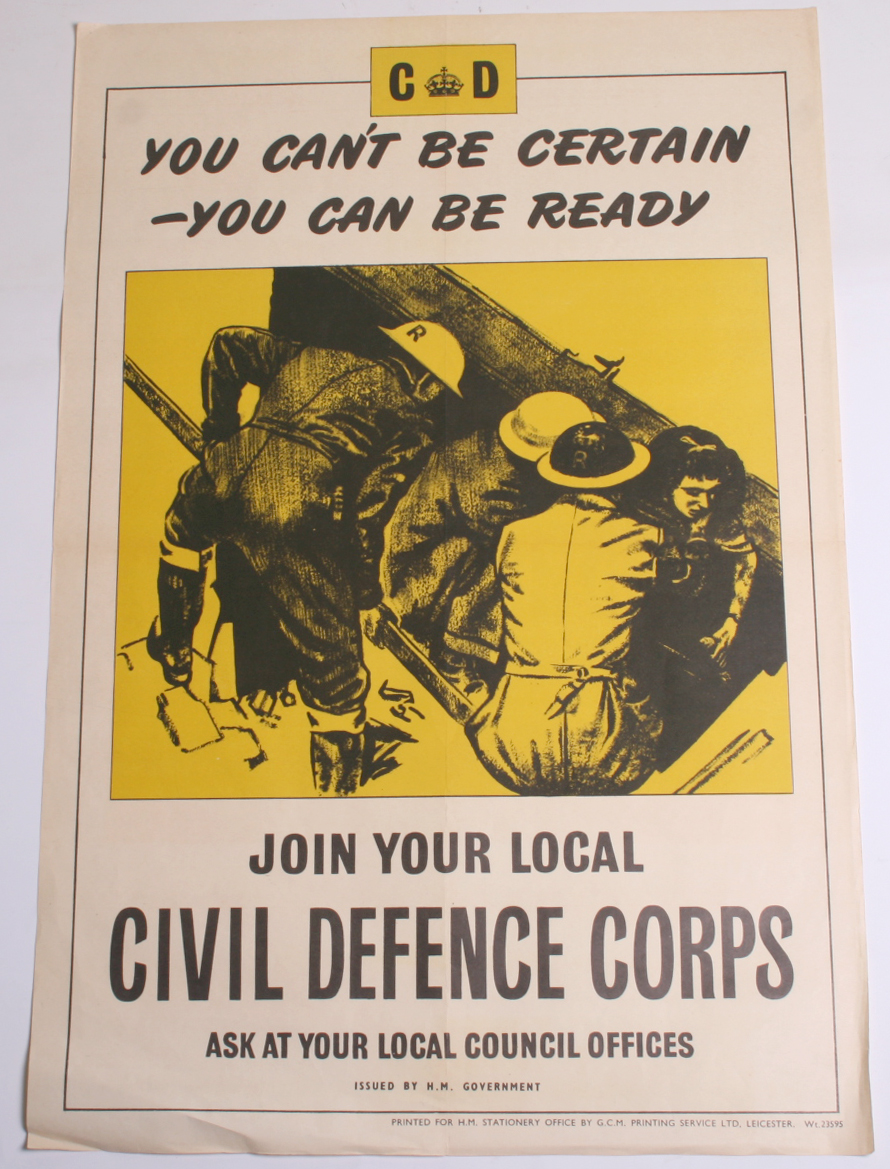 Somewhere in the course of
the long weekend off from history
the way many people think about disaster changed. Real disasters - things one really needs to prepare for, and that can be more-or-less managed by cooperation - became less imaginable. Instead, even people who claim to be serious about preparing are now mostly playing at being scared, telling themselves childish
make-believe horror stories about
"the day when United Nations soldiers will enforce martial law in this country, when things fall apart [and] ... martial law will be inflicted upon us, and that people will beg for it, when faced with the alternative of anarchy, food riots and race riots"
If I can draw anything from this, it's that to be consciously a part of society - to see your future as bound up with that of a community - is to be an adult. Turning your back on it is to retreat to a kind of wilful childhood.